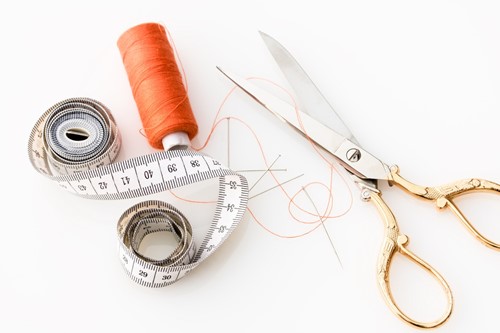 If you're a budding DIY enthusiast wanting to create custom home decor, home sewing projects are an excellent way to begin. There are plenty of beginner-friendly and inexpensive home decor sewing projects to choose from and stretch your creativity.
With a basic sewing machine and a quick trip to the fabric store, you have everything you need to start your sewing project and craft unique home decor. Here are some of the best sewing projects to start with:
Curtains
Window treatments can completely transform any room of your home while also providing valuable functionality. Curtains also happen to be one of the simplest home decor sewing projects you could ask for, and only requires a few supplies.
Once you've chosen your favorite fabric, measure and cut it to size. By folding over a large hem on one side of the fabric, you can create a tube for the curtain rod. All you need to do is make a single long stitch to complete the fold, and your curtains are ready to hang. Use this home decor sewing project for any size of window.
Pillow covers
Decorative throw pillows are a trusted standby when it comes to home decor. However, for those who like to change their style frequently, buying new pillows every time can be costly. Instead, consider sewing your own pillow covers.
There are a few different ways to sew the pillowcases, and the amount of fabric you need will depend on the size of the pillow you choose. You can use the same fabric for both sides of the pillow, or choose complementary front-and-back fabrics to give yourself more style options.
Now you have the freedom to choose any interesting pattern or color combination for your home decor without busting your budget on new pillows.
Fabric bags
A DIY fabric bag is the perfect example of a beginner-friendly sewing project to use for your own home or to create as gifts. You can make a simple fabric tote bag with any kind of sturdy fabric like cotton, canvas or denim.
Tote bags only require a few materials and basic stitching, but can be embellished with features like lining or pockets if you prefer.
You can also create fabric totes in a variety of styles depending on their intended function - think grocery bags, picnic bags or even laundry bags.
Curtains, pillowcases and tote bags are the absolute best home decor sewing projects for beginners. Even if you don't have a sewing machine, you can still make your own DIY decor using fabric tape.
Are you ready to start sewing? By starting with a great beginner sewing project, you'll never know what you'll be inspired to create next with your favorite fabrics.